With great horror I have discovered that from my 80 GB hardrive in Macbook already over 76 GB was full. Mostly because of the hidden activity of iTunes and silent downloading of new podcast episodes. Especially video podcasts - such as Mac break - are disk heavy, since they are produced in HD - and as result, look remarkably beautiful on the screen.
While cleaning up, I have decided to burn few of my very favorite podcasts to the MP3 CD and keep it in the car. Doing that is really easy in iTunes - all you have to do is to select MP3 CD in Preferences -> Advanced -> Burning, create a playlist that will contain all MP3's you want to burn, control-click it and select Burn. So far so good. There are some situations when yu want to have more control over the process: for example you want to put the files to subfolders or need to adjust / cleanup the names of files before burning.
When I wanted to burn all episodes of Security Now!, I found out that files are having very different naming conventions: from super-brief 'SN-018.mp3' to 'Security Now 44: Your Questions, Steve's Answers - sponsored by Astaro Corp..mp3'. I did not like that and specially did not like two dots and special characters in name, so I decided to clean up the file names and burn CD manually. Because iTunes keeps separate database of the music files, I did not want to mess with the files under its control directly and decided to copy them elsewhere. It is easy to find out that files are in /Users/USERNAME/Music/iTunes/iTunes Music/Podcasts/PODCAST-NAME/ as plain MP3 files. Not all of them, though. Only podcasts that were downloaded as podcasts - which in my case were episodes 45 and up, because, for some reason, iTunes did not offer earlier episodes. Later on I have downloaded the episodes 1-44 from Steve Gibson's website and imported them to library, however they ended up being "music", not podcasts and were stored according the Album and Artist information from MP3 file. That means all over the place, as some files had 'Leo Laporte with Steve Gibson' as artist, some 'Steve Gibson' and some none. It was easy to collect them all in one playlist, but before manually searching multiple directories, I thought - there must be a better way !
And there indeed is. The answer was Applescript and wonderful site full of iTunes Applescript goodies named Doug's Applescript for iTunes. I found there script 'Alias files to folder' and 'Copy files to folder'. Installation is very easy: you download the .dmg file (disk image) doubleclick it (to mount it) and drag the icons to the arrow - as the image says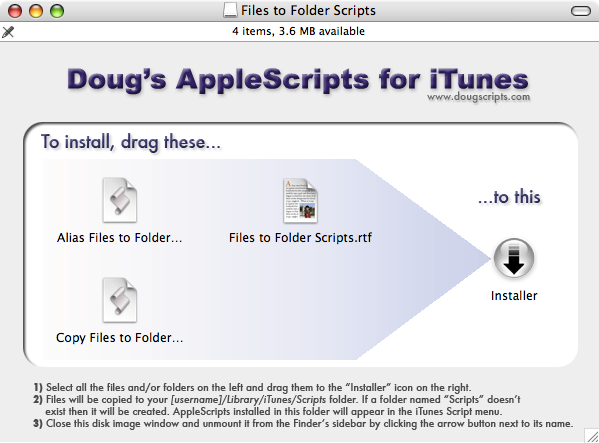 After that, you will see in the iTunes menu small script icon.

Select all files you want to copy, activate the script, select destination directory - and you are done. The files will be copied where you selected.
The site contains lots of very useful scripts. You can find a script which for example, allows converting between file formats in batch, making files bookmarkable. It can join tracks, get a list of music files that are not contained in the iTunes library, colortag the files based on type (lossless, protected, mp3,desktop movie, ipod movie etc), set filename to author->track name, synchronize the iTunes database with local file folder (fantastic for the external USB drives !), search Wikipedia or Amazon for the album/artist info, find artwork on internet using Google. It can even copy the music from iPod to iTunes (works works with Mac formatted iPods only), automatically generate PDF booklets, find song lyrics, rip directly to iPod, remotely control iTunes on different machine or export playlist into XML format.
I think I will start seriosly consider looking at this Applescript thing :-)
Author Miro Adamy
LastMod 2007-01-15
License (c) 2006-2020 Miro Adamy